We have egg laying chickens and boy do those eggs taste good!
Chickens reach their maximizing egg laying potential when they have 16 hours of light a day. That's a lot of light!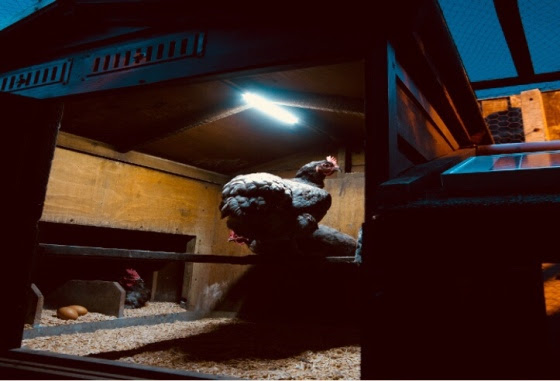 God made chickens dependent on the light so they can be productive egg layers and God made us dependent on the light so we can be productive Christians. And as good as the vitamin D benefits are from the sun, that's not the type of light I'm talking about. I'm talking about the light of His Word.
Psalms‬ ‭119:105‬ says, Your word is a lamp to my feet and a light to my path.
We desperately need huge amounts of "Word-light" every day. We need light from God's Word to remain connected to Him on His path so that we can reach our full producing-potential as Christians. We need more light than we realize. We may think simply reading a bible verse a day is enough- but it's not. Our outflow is diminished when our light intake is diminished. We're more like chickens than we realize.
God's Word gives light to us internally and externally. Internally it reminds us who God is and who we are. Externally it exposes the good, bad and ugly of the world around us. So, if reading a Bible verse a day isn't enough- what is?
My wife says it like this, we must surround ourselves with God's Word in order to soak it in. Ways to absorb as much "Word-light" as possible could be: memorize scripture and meditate on it throughout the day, keep a Bible with you or download the Bible app on your phone so you can review it anytime, let the Bible app read scripture to you out loud while you work or drive, write verses on post-its and put them all over your house in strategic places where your eyes will see them, even some worship music can help us soak in God's Word! Be creative and let the Lord give you ideas too… He wants you intimately connected to him!
We need light to produce and be healthy. God's Word is light to our minds, hearts, and souls. I guess we're more like chickens than we realize and need more of God's word than we realize.